On a weekly basis, the CAE compiles news of interest to the organization and its members, and makes it publicly available on our website. The CAE works to highlight emerging issues in which engineering has a role as well as promote recognition of engineering excellence and innovation.
Governor General receives CAE Honorary Fellowship
As its highest honour, the Canadian Academy of Engineering (CAE) may bestow the title of "Honorary Fellow" on any individual who has made an outstanding contribution to the profession of engineering in Canada, another country or globally. This honour is bestowed on an individual for contributions well above what is expected for a Fellow of the Academy. At a private ceremony at Rideau Hall on 23 May 2018, Her Excellency the Right Honourable Julie Payette, Governor General of Canada, was presented with Honorary Fellowship in the CAE.
The Governor General has had an exceptionally distinguished career. Prior to being selected to join the astronaut program of the Canadian Space Agency (CSA) in June 1992, Ms. Payette, a multilingual person, conducted advanced research in computer systems, natural language processing and automatic speech recognition.  Ms. Payette served as CSA's Chief Astronaut from 2000 to 2007. She participated in two space missions (1999 and 2009) and was Canada's first astronaut to board the International Space Station.  Ms. Payette has also worked as a Capsule Communicator to the NASA's Mission Control Center in Houston, she served as scientific authority for Quebec in Washington, and was Chief Operating Officer of the Montreal Science Centre.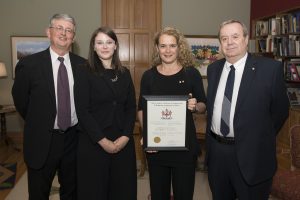 (left to right: K. Goheen, K. Keohane, J. Payette, B. Burlton)
Photo credit: MCpl Vincent Carbonneau, Rideau Hall (c) OSGG, 2018. Reproduced with permission of the OSGG, 2018.
2018 CAE Scholarship Winners Announced
The Canadian Academy of Engineering is pleased to announce the winners of its 2018 national scholarship competitions. To read the official press release, click here.
Dean's Renewal
Bill Rosehart, FCAE, and incoming Canadian Academy of Engineering Director, has been renewed as Engineering Dean at the University of Calgary. For more information, click here.
Gilles Patry honored by Carleton University
Congratulations to Gilles Patry, FCAE, Executive Director of the U15 Group of Canadian Research Universities,  on his Honorary degree from Carleton University. For more information, click here.   As well, Dr. Patry was named to the Board of Directors of the Royal Canadian Mint. For more information, click here.
Honorary Degree for Ralph Haas
Professor Ralph Haas, FCAE, the father of pavement engineering, received an honorary degree from the University of Alberta at its 13 June convocation. For more information, click here.
---
  Have a story you would like to have featured?  Please contact us at cae-admin@cae-acg.ca.
 Follow the CAE on Facebook, Twitter and LinkedIn.