On a weekly basis, the CAE compiles news of interest to the organization and its members, and makes it publicly available on our website. The CAE works to highlight emerging issues in which engineering has a role as well as promote recognition of engineering excellence and innovation.
City of Ottawa to map popular south-end neighbourhoods for flood risks
Prof. Slobodan Simonovic, FCAE, said that "mapping flood plains, especially in areas that are  near water, needs to be completed and updated on a regular basis."
To read the article, click here.
Robert Burton Distinguished Service Award
Every year the Canadian Institute of Transportation Engineers (CITE) bestows its most prestigious award, the H. Robert Burton Distinguished Service Award, which is named after a man who dedicated much of his life to the traffic engineering profession.  This year the award was bestowed on Jeannette Montufar, FCAE.  Congratulations!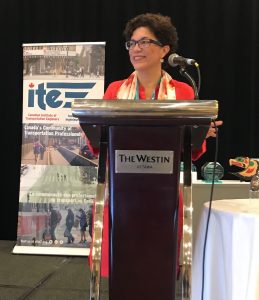 2019 CAE Scholarship Winners
Congratulations to University of Victoria engineering students Keegan Richter and Keagan Shedden, winners of the 2019 CAE Belfry and Aubin scholarships, respectively.
---
Have a story you would like to have featured?  Please contact us at cae-admin@cae-acg.ca.