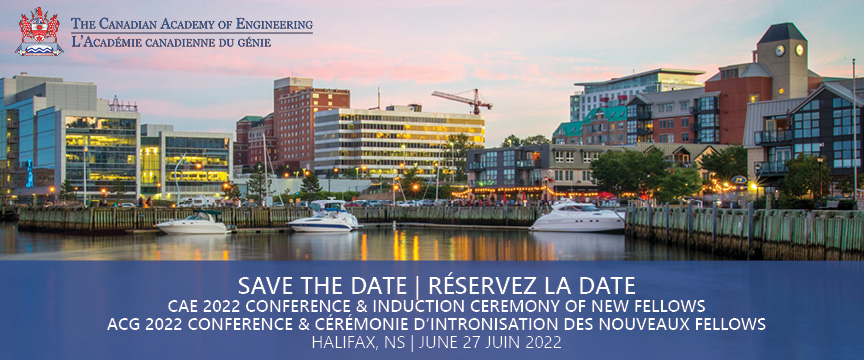 ---
Join us in Halifax for the 2022 Conference and Induction ceremony for our new Fellows on June 27th, 2022. 
The Canadian Academy of Engineering is delighted to announce its first in-person Annual Conference and New Fellow Induction Dinner since 2019. It will take place on Monday, June 27, 2022 in Halifax, Nova Scotia. This event provides a great opportunity to meet old friends and new Fellows starting with a cocktail on Sunday evening. Attendees will learn about an exciting area of Canadian engineering that incorporates sustainable development, climate change, application of leading technologies such as AI and robotics, and great opportunities for economic and employment growth.
Program Summary
What is the Blue Ocean Economy, and why does it need engineering? Canada has unequalled ocean resources and a rich maritime engineering history. With over 200,000 km of coastline, we have as much as the next four countries combined. We are one of a handful of countries that borders 3 oceans and, despite having the world's second largest land area, only two of our 13 provinces and territories are landlocked. 12% of the Canadian population lives with 10 km of the coast. While marine industries contribute only 1.6% to Canada's overall employment and GDP, those numbers rise to more than 10% in Atlantic Canada, of which the private sector accounts for 80%. The marine sector is broad, incorporating transportation, oil and gas, fishing and seafood, defence, and tourism and recreation. Globally, the Blue Ocean Economy is expected to double by 2030.
How will Canadian engineering leadership help Canada and the world develop this incredible opportunity in a safe and sustainable manner while adapting to and mitigating the effects of climate change? The CAE Annual Conference on Engineering the Blue Ocean Economy will feature many leading thinkers from research to business to policy.
The conference is hosted by the Faculty of Engineering at Dalhousie University and the program committee is drawn from throughout Atlantic Canada.  Because we have been unable to hold a dinner through the pandemic, we will be inducting New Fellows from years 2020 through 2022.
Click here to view the Conference Program
---
Thank you to our Sponsors!